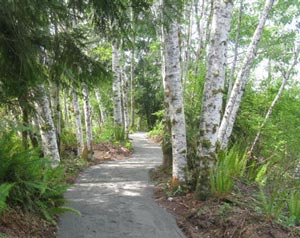 Nestled amidst 44 acres of Douglas fir forest with 1200 feet of secluded Cowichan Lake shoreline the Centre is a full service conference and outdoor learning facility.
The Centre offers an inspirational setting for businesses, churches, organizations and families for conferences, meetings, retreats, camps or any special event. We serve groups of 15-100 with exclusive use of our site and facilities, including overnight accommodation.
The Centre also delivers custom-designed outdoor educational and recreational programs for school groups and people of all ages.
Visitors to the region will enjoy the spirit of adventure as they explore the West Coast temperate rain forests, mountains, wetlands and marine environments of the Cowichan Valley. We are strategically located at the gateway to the majestic landscape of Carmanah-Walbran and the Juan de Fuca marine trail, as well as the spectacular rugged terrain of the world-renowned West Coast Trail.



So, whether you come to discover the natural beauty of the environment or to learn more about natural and human history history of our area, you will find programs to meet your needs and abilities.

In the spirit of adventure and knowledge, the Centre encourages and creates a flexible and relaxed atmosphere for guests to enjoy recreational activities from hiking and swimming, to birdwatching, photography, the arts and music.
The Centre is owned and operated by the Town of Lake Cowichan.